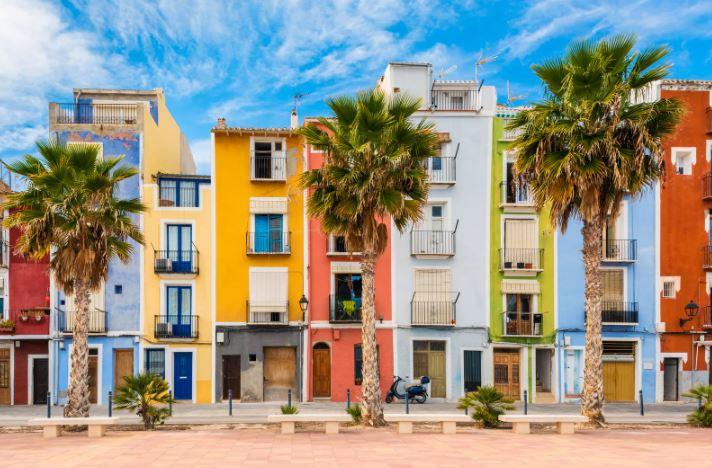 Getting to know Villajoyosa: the Alicante town that reminds us of a beautiful rainbow
Villajoyosa, or as its name indicates "happy city", is a beautiful town located in Alicante, on the North Costa Blanca, between El Campello and Benidorm. Every year thousands of tourists visit it, attracted by the beautiful colorful postcards offered by its facades and by the tranquility of its beaches. Many of those who arrive with the aim of getting to know La Vila and then leaving, end up falling in love with it and staying. Others choose it as their second home. The reasons are many and the conclusion is only one: La Vila is an unmissable destination.
One of the most remarkable qualities of Villajoyosa is its conservation as an authentic Spanish village: Mediterranean, fishing town and with a vibrant culture. Its colorful facades have a reason for being, and the cause goes back many years. It is believed that the fishermen sought to reconnoiter their home from a considerable distance from the sea and thus return to the correct port.
As for its beaches, there are several options, but all of them stand out for being calm. Playa del Centro is ideal for relaxing and enjoying its gastronomy in one of the many bars that its promenade offers. White sand and blue water, dotted with tall palm trees that offer shelter from the sun. In addition, it has a Blue Flag and has access for people with reduced mobility.
Although La Vila is a town where you can breathe tranquility, the hearts of its inhabitants vibrate as much as the color of their houses. Overflowing with ideas, the people who live in the town have developed multiple businesses that are worth visiting today. From healthy gastronomy establishments such as Care Food and Sana Bowls, or the typical rice dishes and tapas that you can try in one of its many restaurants; to La Casa Azul, home and store of clothing designer María Lorenzo. Also, you can't miss visiting the famous chocolate factories such as Valor or Clavileño that ensure an experience of incredible flavors and smells.
A place prepared for all tastes, and that ensures that those who visit Villajoyosa want to return.